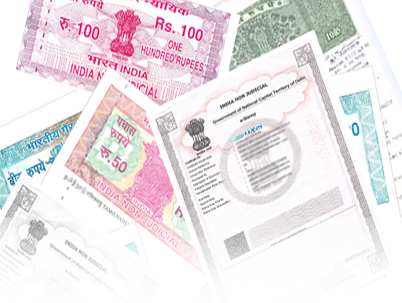 E stamping is an online process through which Stamp Duty can be securely paid to the Government. Stamp duty is a tax levied by the state, or the Central Statute in some cases, and is payable in most official or legal documents to accord legal sanctity to their execution. The conventional method of stamp duty payment is considered complicated and time consuming, and the amount fluctuates depending on your state jurisdiction and type of document.
The Indian government introduced the e-stamping facility back in 2013 to reduce the margin of errors and counterfeits. The Stock Holding Corporation of India Limited has been appointed as the Central Record Keeping Agency for the purpose of maintaining records on e-stamps. Certain states like Delhi require all stamp duty to be paid online. The introduction of e-stamping has streamlined the process of executing rental agreements, coming into play more heavily with the onset of the pandemic and the resultant lockdown.
IOUX is an Authorized Collection Centre (ACC) of the Stock Holding Corporation of India Ltd for the purchase of Stamp Paper, and our smart system auto calculates the stamp duty for any rent agreement, obtains stamp paper for you, makes it available to be downloaded and if required can also deliver it right to your doorstep.
IOUX can arrange any sort of stamp paper for any transaction in any denomination. The use of e-stamping simplifies the process of creating and executing a rent agreement while also making the documentation workflow convenient and easy, requiring less time and effort than the physical procurement of stamp paper. IOUX based eKYC (for both Tenant and Landlord) and NSDL e-Gov based eSign are recognised by all institutions and have already become the preferred norm for execution of Rent Agreements across the country. The fact that they can be done remotely in a secure manner and at a fraction of the cost of physical execution has meant a great deal for the citizens.
The authenticity of IOUX obtained stamp paper is equivalent to that of physically procured stamp paper, and more so the stamp paper obtained online is harder to counterfeit or tamper with. At the time of placing your order, the IOUX system prompts its users to reconfirm details of their order before it is placed, preventing any chances of errors or losses. IOUX offers its services to financial institutions, businesses and individuals alike, and has garnered a large share of this market because of its prompt and high quality services. Its support team is always available at the Toll Free no. 1800-274-8822 as well as on email support@ioux.in