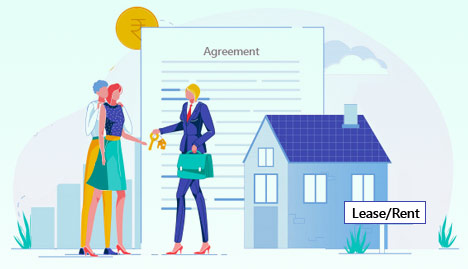 NRI(s) or Non-Resident Indians have accomplished huge success in faraway lands across the world. Working as successful businessmen, senior functionaries at organisations, skilled workforce and even engaged with the government or social sectors in foreign countries, NRIs have earned a great name for India. Another aspect which stands out about NRIs is the fact that their bonds and linkages with the homeland India is still very strong. Many of them have family in India and continue to own property and other assets in this part of the world.
These properties and assets owned by NRIs within India often need renting or leasing, they may require civil contracting or up gradation works, etc. This entails legal documentation, contracting and related services.
Before renting or leasing any property, how can the NRIs who are sitting in another part of the world, be sure of background verification and Identity (KYC) of their tenants or of the other persons they engage for works at their properties?
How to draft or author these agreements or other documents, and to eSign them along with persons/relatives who may also be outside India or within the country?
How can they ensure that proper and adequate stamp duty is affixed on these documents and agreements? How to do all these at a very reasonable cost?
IOUX is the solution and answer these most relevant asks and requirements.
IOUX which is a part of a registered financial institution in India offers end to end solution for creation, execution, management & timely enforcement of agreements. IOUX-based rent agreements provide security to both tenants and landlords by firstly confirming the identities of all parties using their PAN or Aadhaar card in a highly user-friendly and Instant online manner over the web or via the IOUX mobile app. Availing very proper and legally vetted templates of rent or lease agreements (which are customisable) both parties are assured of their rights and commitments within the lease. IOUX then assists you by auto calculating the requisite stamp duty to be affixed on these rent agreements, however you may also choose to purchase stamp duty value of your own choice. You can also choose to do a proper video KYC of the parties signing the rent or lease agreement, leading onto actual e-Signing of these documents and agreements using Aadhaar-OTP based eSign or by other means. IOUX can also send regular reminders to tenants for timely payment of monthly lease or rent amount. And all this is made possible for IOUX accessing online from anywhere in the world and at a cost of less than $10 using the highly user friendly Fintech and LegalTech services of IOUX.
IOUX is an ASP of NSDL e-Gov, authorised for online execution of documents and agreements, and such online executed documents are legal and enforceable as per the Information Technology act 2000.
IOUX has indeed set a high standard of Customer Service (1800-274-8822) and email Support to satisfy thousands of happy clients who are regularly executing several documents and contracts in diverse categories for their personal and business needs.