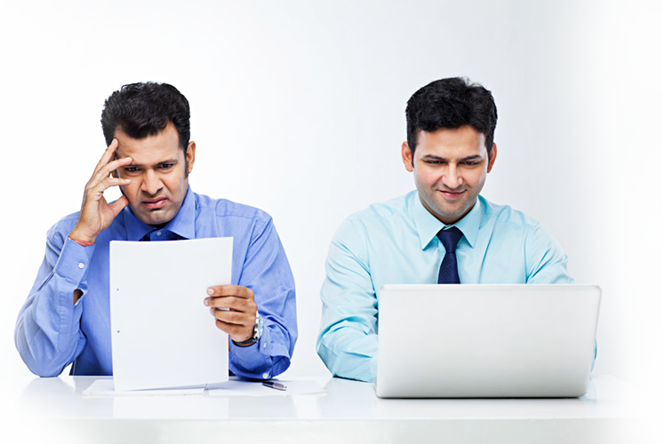 THE OVERHANGING PROBLEM OF DELAYED PAYMENTS AND HOW TO SOLVE THIS ISSUE?
Small business owners that conduct credit transactions on a day-to-day basis face the persistent problem of delayed payments, either due to an unreliable buyer or some other unforeseen event. Even payment defaults from their customers is not entirely uncommon and can lead to wipe out of modest capital held by micro, small & medium enterprises (MSMEs)
The relief offered by the authorities in regards to this problem often falls short of the mark, with a multitude of cases pending in the facilitation council, while losses caused by procedural delays can add to this burden. To avoid taking the issue to court, small businesses often have to take it upon themselves to contact your clients after the due date has passed to follow up on their payments. This cumbersome process can also put a strain on the business-client relationship. IOUX aims to create an efficient, intuitive system for individuals or business entities to be able to instantly form legally enforceable payment commitments with each other, and automate the process of sending out gentle reminders for payments before due dates approach.
USING INVOICE PAYMENT COMMITMENT TO REDUCE YOUR RISKS
The IOUX system offers you a unique invoice payment commitment tool, involving a legally binding undertaking/ declaration that can be eSigned by your client to further solidify the payment obligation represented by the invoice. Simply upload a picture of your invoice and fill in the template of your undertaking and get it digitally signed from the comfort of your home. The generated invoice along with any other necessary document can be electronically shared with the customer before dispatch or delivery of the goods has been made and the acceptance can be procured by simple OTP based Aadhaar based eSign facility using the IOUX mobile Application or on any computer or web-browser. These eSigned Invoices and Documents are 100% legally enforceable and an ample documentary evidence of your receivable which can even help you avail Invoice Discounting from IOUX or any other authorised finance provider.
We provide you with a Milestone Management feature, designed to send non-intrusive invoice payment reminders to help you secure prompt payments as and when they are due. The whole process of contract execution is remote, and our application will send gentle reminders to your clients as payment dates draw nearer.
USING INVOICE PAYMENT COMMITMENT TO ENHANCE WORKING CAPITAL MANAGEMENT: THE IOUX METHOD
These signed invoices and undertakings can act as documentary evidence of dated receivables to help you secure working capital financing or Invoice Discounting from banks and financial institutions.
IOUX can also maintain a history of all your Invoices/transactions, providing you with a seamless paper trail for any loan application requirements.
IOUX is a fintech platform that was created as a one stop destination to fulfil all of your smart contracting and financing needs. We allow you to verify and authenticate the identities and information provided by your buyers through our efficient Aadhaar based eKYC process. We are licensed for eKYC by NSDL e-Gov, and our eSigning process is legally binding and superior to a physical signature.
IOUX aims to create an environment of transparency and responsibility, thereby ensuring timely, convenient payments for our clients and reducing the possibility of delay and defaults. IOUX has helped hundreds of businesses around India to streamline day to day contractual operations and experience the elegance and ease of use that comes with our innovative products.