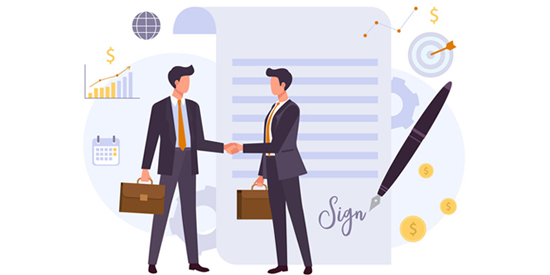 India becoming the 5th largest economy in the world has brought with it tremendous leaps in the technological world, and some of these ideas have been startlingly simple, while at the same time streamlining and securing systems that have been in place for decades. eSigning has been one such development, with eSignatures being recognised as valid and legally binding all over the world.
With the pandemic wreaking havoc throughout India, it has become more important than ever to ensure smooth functioning of our business operations as we move to fight covid-19.
IOUX is an authorized ASP (Application Service Provider) of NSDL e-Gov which enables IOUX users to digitally sign i.e. eSign any ordinary letter or statutory document or legal Agreements by simply entering Aadhaar number from mobile phone or computer without requiring any hardware token or USB dongle. Such IOUX based Aadhaar OTP based eSign executed documents meet the essentials of a valid document/contract set out under Indian contract law as per the IT Act 2000.
In India, Aadhaar based eSign facilitates an Aadhaar holder to digitally sign any document using only their Aadhar card with a mobile number registered with Aadhar. The signature can be placed remotely from anywhere, in a seamless and secure manner with IOUX's inbuilt user authentication or eKYC service.
IOUX lets you eSign any document or agreement by completing a simple, cost effective and quick process. Our eSign facility does not require any hardware keys or tokens. You can add multiple persons or parties, and even witnesses or guarantors to sign one document at a time. IOUX esign facility removes the hassle of physically meeting someone face to face to sign to execute a document, and provides a higher level of convenience while saving huge cost and time. On request, IOUX can also provide you with a printed copy of your executed Agreement.
Aadhaar based e-signatures are tamper proof and indisputably secure, due to their advantages over physical signatures, including the immediate destruction of keys after their usage. They provide a high level of privacy and are legally valid as per the IT Act 2000.
IOUX offers you end-to-end solution for the execution of documents and agreements at a negligible cost by solving all your documentation problems at once, providing you with verifiable, legally vetted templates, the option to place order for stamp duty/stamp paper, eKYC, eSign, all of which can carried out remotely and securely thereby creating legally binding and enforceable documents and contracts.