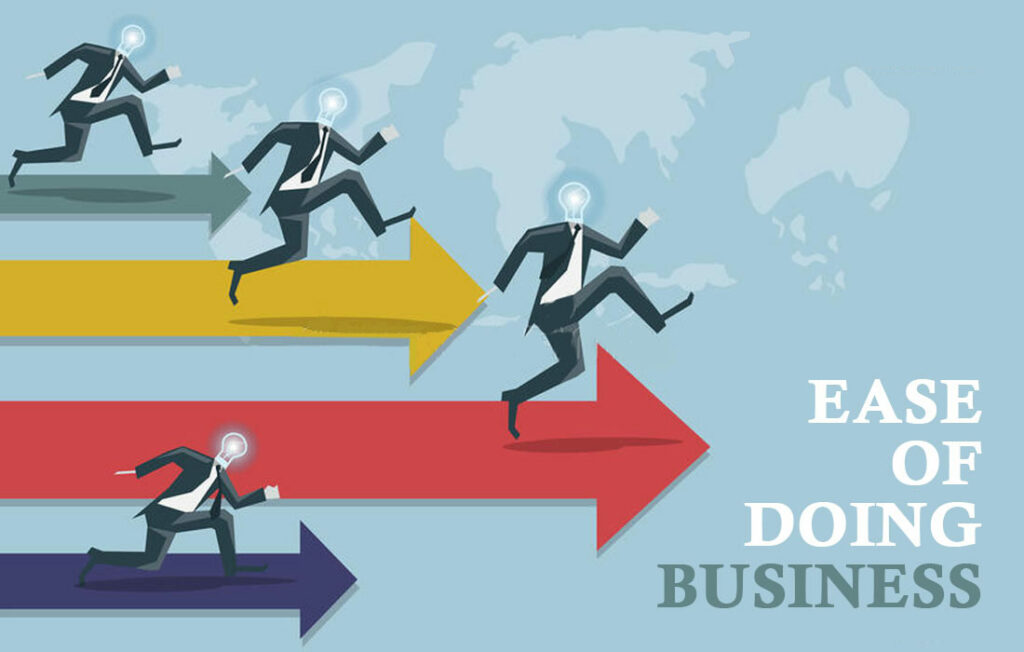 The ease of doing business index is published by the world bank and takes into account the various parameters that determine the ease of doing business in a country. Economies are ranked from 1-190, and judged on how easy it is to begin operations in the business environment of that economy and the regulations provided by them. A higher ranking in the list means that the regulatory environment is more conducive for starting and operating businesses.
India ranks 63rd on this index, which indicates that our steadily growing economy is cutting down on bureaucracy and red tape to move up into the list.
Our rank in the parameter "Enforcing Contracts", however, is the abysmally low 163. This points to the overly complicated and outdated administrative systems that still create hurdles for businesses in India. In the event of a dispute or delay in payments, the process of filing charges and arriving at a judgement that actually leads to the recovery of payment or goods is inordinately time consuming and complex.
Because of the informal and improperly worded contracts that are a trademark in the business world of Small and Medium Enterprises, dispute resolution becomes an overly complicated task. This is where smart contracting and online execution becomes our way into the future The clearer and more unambiguous contracts can be, the more the chance for disputes regarding terms and conditions diminishes.
Smart contracting bring you that certainty, providing you with valid and authenticated documentation at lower costs and an even lower risk of contract failures.
The government of India has now enabled the India Stack for eKYC, eSigning and eNotarisation, allowing contracts to be created and executed online. Smart contracts take a step further and ensure the authenticity of both parties and the immutability of all terms and conditions agreed to.
This is where start-ups like IOUX come in, working closely with NSDL e-Gov to offer a platform for the online creation and execution of contracts. At IOUX, Buyers and Sellers or parties to any agreement/contract can Quickly e-Sign a document or contract digitally by completing an easy step-by-step process. Businesses no longer require cumbersome to obtain and difficult to retain hardware keys/USB- drives for digital signatures. IOUX facilitates any Aadhaar holder to digitally sign a document without any such hardware from easy access to their computers and mobile phones . IOUX technology can enable multiple persons, buyers, sellers, transporters in a Trade Contracts, Payment Undertakings, Bill of Exchange, etc. or parties, witness(s) & guarantors in any agreement to eSign a document and legally execute it over IOUX.
As the 5th largest economy in the world we still face massive structural challenges and a widening socio-economic gap. Fintech platforms like IOUX are a perfect fit for the ongoing digital revolution, streamlining day to day contracting operations and incentivizing businesses in our country.
Moving your business online in this way will help you leave a paperless & better Audit Trail with date-time stamped signatures, and an easy, secure way to digitally sign documents anywhere at any time. This enables Medium and Small businesses to easily present their cases to lending institutions, or to make applications or final projections and establish their credit worthiness. The disciplined recording of all transactions, along with clearly laid out terms and conditions eliminates these problems entirely.
The condition of MSME's has gradually been improving with the introduction of the Digital India program, and the slow penetration of internet services in the industry, along with products aiming to formalize MSME operations.
The post Covid world requires players to be fast on their feet, and IOUX aims to ensure that no man is left behind. Our product is geared towards Medium and Small Enterprises, and also keeps track of every important due date to send gentle computer-based reminders to your counterparties as these dates approach. Our automated notification system creates an atmosphere of transparency and prompt payments.
Since our world is now more driven by technology than ever before, it is important to change with the times and develop smart solutions to face upcoming challenges, and IOUX intends to be a catalyst for this tremendous change and expedite the shift towards a completely digital economy.