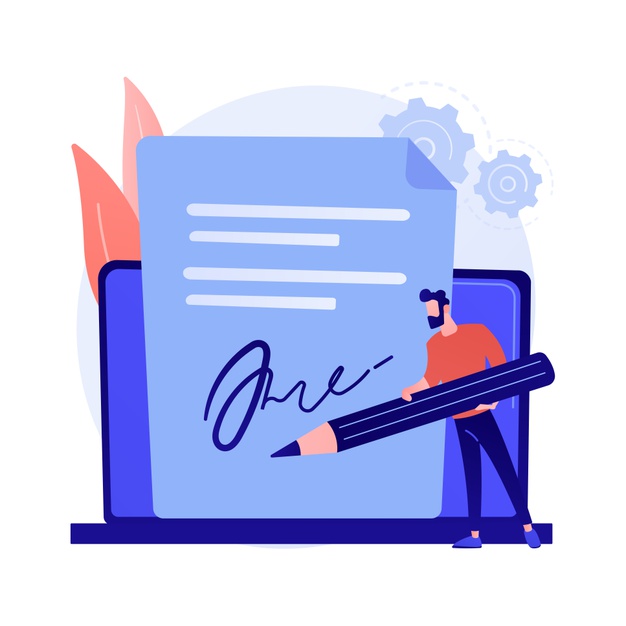 A smart or digitally generated contract is an agreement between two parties that is created online, its parties properly authenticated online, eSigned, eStamped (online stamp duty payment order) and thus executed over the internet. Compared to conventional physical paper based documents, Smart Contracts are a faster and more convenient alternative to enter into agreements or contracts, and are nowadays being used everywhere from day to day business transactions to administrative & government filings and documentation.
Smart contracting has thus already established itself as a safer and much more economical option for companies looking to go digital with their businesses. The efficiency and automation saves huge costs and time since one doesn't need to meet the counterparty physically to execute the agreement and expensive consultant's fee is also avoided by use of legally vetted ready-made agreement templates. The accuracy and transparency provided by these powerful new systems allows you to clearly establish terms and conditions and streamline your day to day contracting operations in a speedy, verifiable and traceable manner.
The existing or conventional process for any agreement requires a host of documentation and formalities, starting with seeking professional legal assistance for contract preparation, offline consent and physical signing, purchasing of stamp papers and then issues regarding registration, notarization and document management. This can entail considerable cost and undue hassle.
IOUX is an Application Service Provider (ASPs) of NSDL e-Gov allowing us to seamlessly get documents eSigned on the go, while also being an Authorized Collection Centre of Stock Holding Corporation of India Ltd for the purchase of Stamp Papers.
So What Makes IOUX the Right Choice for Your Business?
Our platform provides you with ready to edit, legally vetted templates for all your documentation and contracting needs, be it personal or professional use. We enable our users to eSign and execute an agreement online in an easy step-by-step process.
IOUX is an end to end platform that allows you to create and manage all your digital contracts at one place. You can prepare any kind of Agreement/Contract by downloading the draft / template from the IOUX website, and edit it as per your requirements. You can share this draft with your authenticated counter parties who can suggest further changes. After approval, the parties can eSign, get the document digitally stamped and even get it delivered to your doorstep.
IOUX authenticates your counterparties for you. Our eKYC process is simple and efficient, and can be completed safely and remotely. IOUX is part of a registered financial institution and follows a highly non-intrusive approach to such eKYC exercises.
IOUX is certified compliant to the IT Act 2000 by government authorised agencies and does not save any unauthorised user data.
The eSign facility can be executed by multiple parties, witness(s) and guarantors etc. The electronic signature service is Aadhaar based and does not require any hardware keys/tokens.
We also allow you to execute e-stamping or digital stamping where our system auto calculates the appropriate stamp duty to be paid for your document, depending on the jurisdiction and type of contract.
Along with this, IOUX offers you a Milestone Management feature which records all due dates and sends gentle, non-intrusive reminders to clients as and when these dates approach, thereby creating an atmosphere of responsibility and transparency and reducing the possibility of delays or defaults in payment.
You have replaced physical letters with emails, online banking with internet banking, now is the time to replace conventional expensive physical documents & agreements with Smart Contracting. Click here to ask IOUX if you have specific queries.