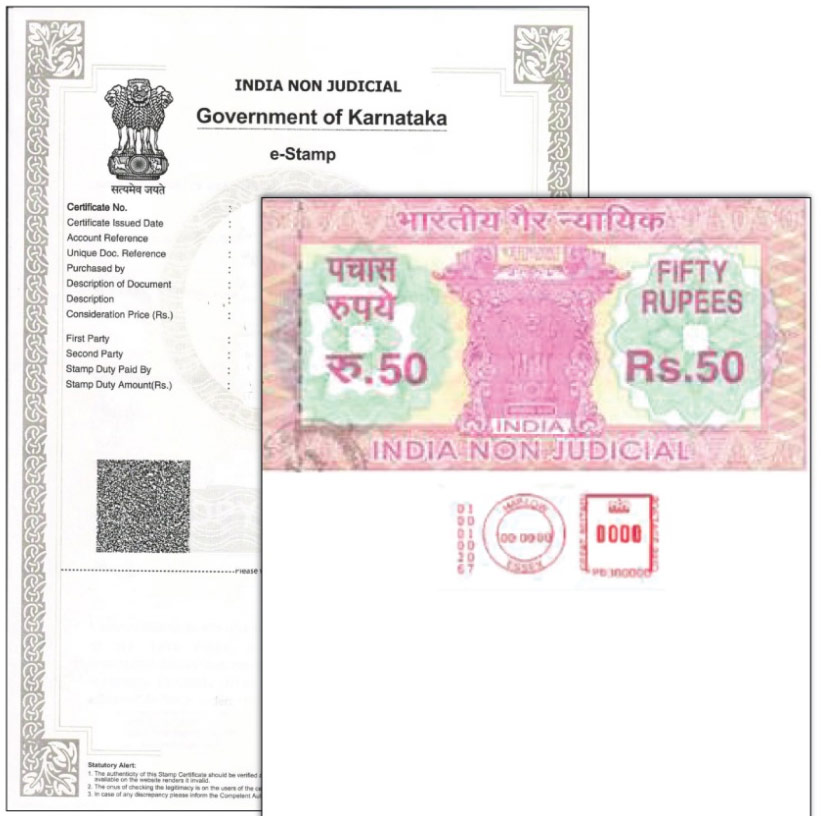 e-Stamping refers to the online process of paying non-judicial stamp duty for execution of any type of document or legal agreement, and has now established dominance over traditional ways of paying stamp duty, and is recognised and supported by several state governments.

In an effort to reduce counterfeit and error instances, the Government Of India has introduced e-stamping facility. The Stock Holding Corporation of India Limited (SHCIL) is the Central Record Keeping Agency (CRA) for all e-stamps used in the country and helps with registration and administration of applicants and maintains these records. It appoints Authorised Collection Centers (ACCs) which issue e stamp certificates to the clients on their behalf.
IOUX is also an Authorized Collection Centre (ACC) of Stock Holding Corporation of India Ltd for the purchase of Stamp Paper, and we procure stamp paper for you for any sort of document/agreement after calculating the adequate stamp duty amount depending on the jurisdiction and type of document.
Simply register at IOUX with your email or phone number, and complete your eKYC in a few short minutes while sitting at home. Then upload the document that needs to be digitally stamped, and sit back while our system calculates the amount of stamp duty to be paid. Select the payment method that suits you the best, make payment and complete the process.
IOUX also procures stamp paper from government authorised vendors in different states. At IOUX you can place an order for stamp paper for any transaction in any denomination.
eStamping is quicker and requires less effort than physical procurement of stamp paper would take, simplifying the process of documentation and eliminating lag in paperwork.
Purchasing stamp paper with us is simpler than physically obtaining stamp paper. eStamping or Online Stamp Paper reduces the chances of counterfeit and complications in the process. IOUX also mitigates the risk of handling/losing important documents, and a digital paper trail is readily available for you. Our system prompts you to reconfirm all details filled in by you before the final order is confirmed so as to avoid any errors. We generate an authentic e-stamp certificate with a Unique Identification Number (UIN) for you in minutes, which can be checked online and also reduces the chances of it being tampered with.